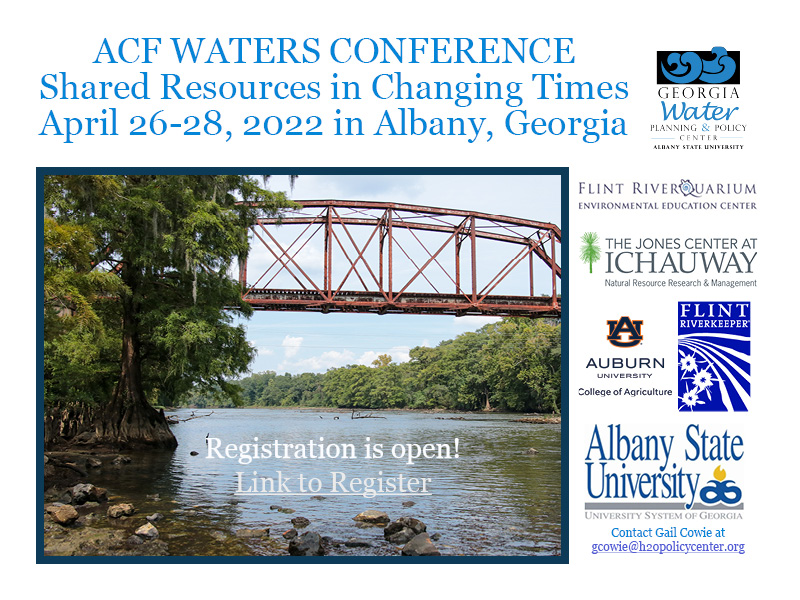 The 2022 Apalachicola-Chattahoochee-Flint Waters Conference is coming up and we have a great program in store for you! The ACF Waters Conference will be April 26-28 at in Albany, Georgia. The program will highlight recent studies, changes in basin conditions, and use of that information in management of shared resources. Researchers, managers, water users, and other stakeholders are invited to join us at this in-person conference.
The in-person conference opens the afternoon of Tuesday, April 26 with an optional field trip on the Flint River followed by reception and dinner at CoveyRise on the Flint. Program sessions on Albany State University's West Campus, starting Wednesday, April 27. A poster session will be held that evening at the Flint RiverQuarium. Program sessions will continue on Thursday, April 28 and wrap-up at 3:00.
Speakers will address restoration and conservation initiatives; reservoir dynamics; water quality monitoring; shoal bass and mussel conservation; management of Apalachicola Bay; and other collaborative science and management projects. Click here to see the full program.
Early rate for general registration is $150 and ends April 6. Student and one-day registration rates are also available. Click here to register.