On January 21, 2022, a new information tool for the Apalachicola-Chattahoochee-Flint (ACF) River System was launched on the Drought.gov website. The ACF Basin Drought & Water Dashboard is a one-stop shop for information on water conditions in this region. The information resources available on the new website provide real-time and historical information through interactive, shareable, and easy-to-understand graphics. The dashboard is designed to be useful to a broad audience from technical users to the general public. You can try out the new dashboard HERE.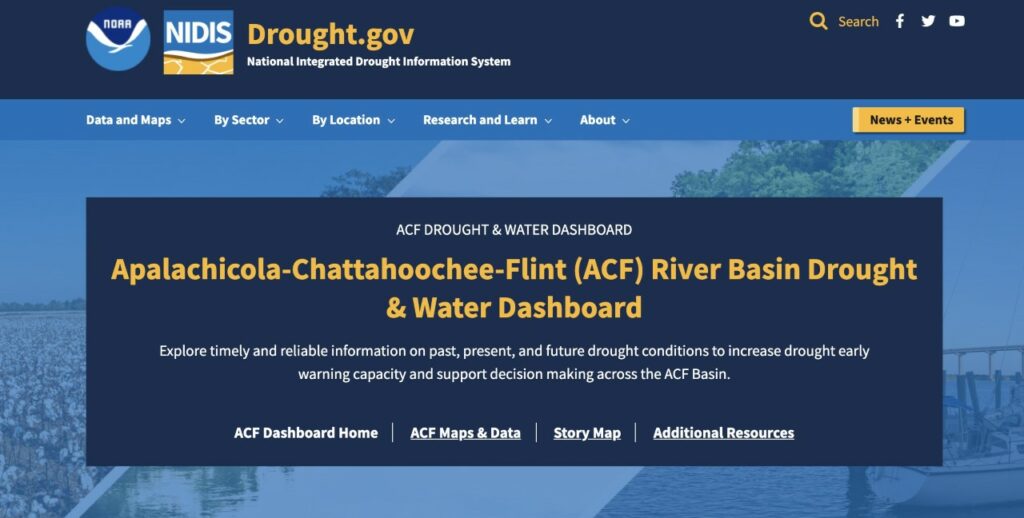 The dashboard was developed in response to requests by stakeholders in the region who wanted better information on drought conditions. The Georgia Water Planning and Policy Center supported the development of the dashboard by the National Oceanic and Atmospheric Administration (NOAA) by creating an engagement process for stakeholder input to ensure that the dashboard would be user-driven. The dashboard reflects the input of over 100 stakeholders that participated in workshops and usability studies.
A primary focus of the new dashboard is to provide context for the data so that users can better understand what the data means for the region. To do so, the dashboard includes a StoryMap that explores drought in the ACF in terms of history, community, economy, environment, and policy. It describes drought impacts and looks ahead to the future of the region. You can explore the StoryMap HERE.
The Water Center partnered in this project with federal, state, and regional organizations. We think that this collaboration with our partners and stakeholders has created a tool that will support us all in understanding the ACF and making decisions about its future.